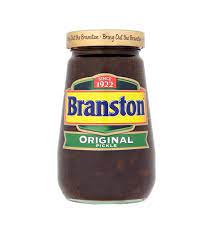 Brantson Original Pickle
A British family favourite and cupboard staple!  Spread it on a sandwich, have it with cheese or use as a dip for your meat pie.  Branston Pickle is made from a variety of diced vegetables, including swede (rutabaga), carrots, onions and cauliflower pickled in a sauce made from vinegar, tomato, apple and spices. 360g.
**please note we do not ship this item due to the glass container.  
---
We Also Recommend