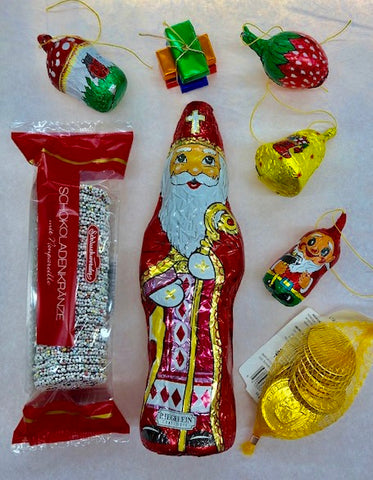 Classic St. Nicholas Care Package
As the tradition goes: On the night of December 5 (in some places, the evening of Dec. 6), in small communities in Austria and the Catholic regions of Germany, a man dressed as der Heilige Nikolaus (St. Nicholas, who resembles a bishop and carries a staff) goes from house to house to bring small gifts to the children.
Carry on the tradition with this classic package that contains a 100g milk chocolate St. Nicholas, 125g solid chocolate wreaths with sprinkles, a 85g bag of solid chocolate coins and 5 assorted chocolate tree hangings.  All products are made in Germany, coins are from Holland.
**Please note, we may need to substitute a product for a similar one at the same value due to limited supply. **
---
We Also Recommend