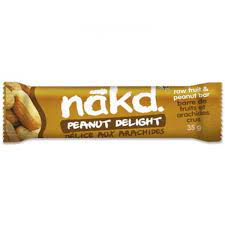 Nakd Raw Peanut Delight Bar
This tasty Peanut Delight vegan snack bar is made from peanuts, dates and a sprinkle of sea salt. This is part of our 100% natural and vegan ingredients guarantee, so that this raw bar doesn't just taste good, but is good too! In our opinion, peanuts are a great snack, making this bar the perfect afternoon pick me up!
Oh and did we mention this delicious fruit and nut bar is gluten-free, wheat-free, dairy-free and vegan friendly, so that anyone can have a taste. Now that sounds nuts!
---
We Also Recommend