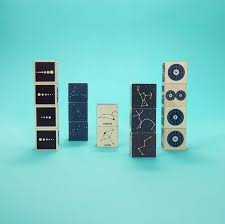 Uncle Goose Constellation Blocks
Explore 16 constellations from Northern and Southern hemispheres. Two debossed sides present the constellation with and without connecting lines. Four printed sides feature the constellation symbol, name, hemisphere, and scale of magnitude. The night sky is great: so are these blocks.
See if you can spot the largest star in the constellation by sight and touch. You can see and feel all the different sized stars. And some of the constellation symbols you see on the blocks? They're entirely made up. Others are grounded in history. Can you tell which are which?
16 - 1.75 inch cubes
Made using sustainable Midwestern basswood
Printed with non-toxic, mouth safe inks
100% made in the USA
Ages 2+
---
We Also Recommend