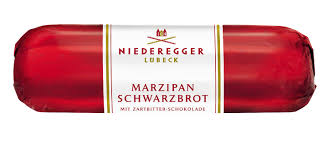 Large Niederegger Marzipan Dark Chocolate Loaf
Only once a year do we get the really large loaf of the world's best marzipan!  It is the original marzipan making company with its manufacturing still in Lubeck, Germany.  This marzipan is different because it's first ingredient is almonds.  The almonds are the best in the world, coming from Italy and Spain.  The marzipan is covered in dark chocolate  - a classic combination.
For the most discerning palette - once you try this marzipan, you won't want to buy any other brand!  300g loaf.